Market Commentary: Week to 18 May 2021 18 May 2021

Market News
Despite all the talk about inflation, and there has been a lot, when the inflation data hit the fan (so to speak) last week the result was a damp squib. The US was the culprit again: just a week after a shocking collapse in US employment growth undermined the case for the economic recovery, a surprising rise in US inflation threatened to upend monetary policy. While the possibility of rapid inflation had been a concern for several months, the data still came as a shock: US consumer prices in April were 4.2% higher than the year before, implying a rate of acceleration that was the fastest for 39 years.
The details indicate that the return-to-normal is generating extraordinary price pressures across a range of Covid-sensitive industries: hotel room rates rose 8%, used car prices and airline fares rose 10%, car rental costs rose 16.5% - and all that was just in the last month! In short, demand is soaring, fuelled by government stimulus and accumulated savings. At the same time, the supply of goods and services is constrained by labour shortages as well as supply-chain problems, such as a shortage of semiconductors and shipping delays caused by the recent blockage of the Suez Canal. Manufacturing cost pressures are building at every point in the production process, from the prices of raw materials through to the cost of labour and transportation. Just to cap it all, the ability of government statistical offices to collect inflation data has been stymied by the lockdowns, so the potential for surprises is greater than usual.
Bond and stockmarkets initially reacted badly, but it took a mere 48 hours to shake off the bad news. Extraordinarily, US government bond prices ended the week at about the same level as before the data was announced, despite the threat to ultra-low interest rates implied by the data. US stockmarkets ended the week above their pre-announcement level. This has prompted some head-scratching. Perhaps the $80 billion a month spent by the US central bank on US government bonds did its job. Perhaps the US government's generous stimulus packages have left investors with so much cash that they keep buying, no matter what happens.
The most popular economic explanation is that any inflation happening now is likely to be temporary, and will blow over as we return to normal. Moreover, for inflation to really become embedded, consumers' inflation expectations must also become embedded and workers must demand wage rises well above current levels of inflation. Neither of those factors are in place. Central bankers in particular have been very sceptical of the current inflationary burst, and seem determined to face down markets. A cynic might argue that this stance suits their purposes very well: they can't let government bond yields rise while government debt burdens are so high, and a serious burst of inflation would actually alleviate the government debt problem.
There are other markets where inflation expectations matter, however, and these did respond more robustly. Both gold and inflation-linked bonds have taken up the slack, with gold now up 2% since the announcement, and US inflation-linked bonds implying levels of inflation not seen since the mid-noughties.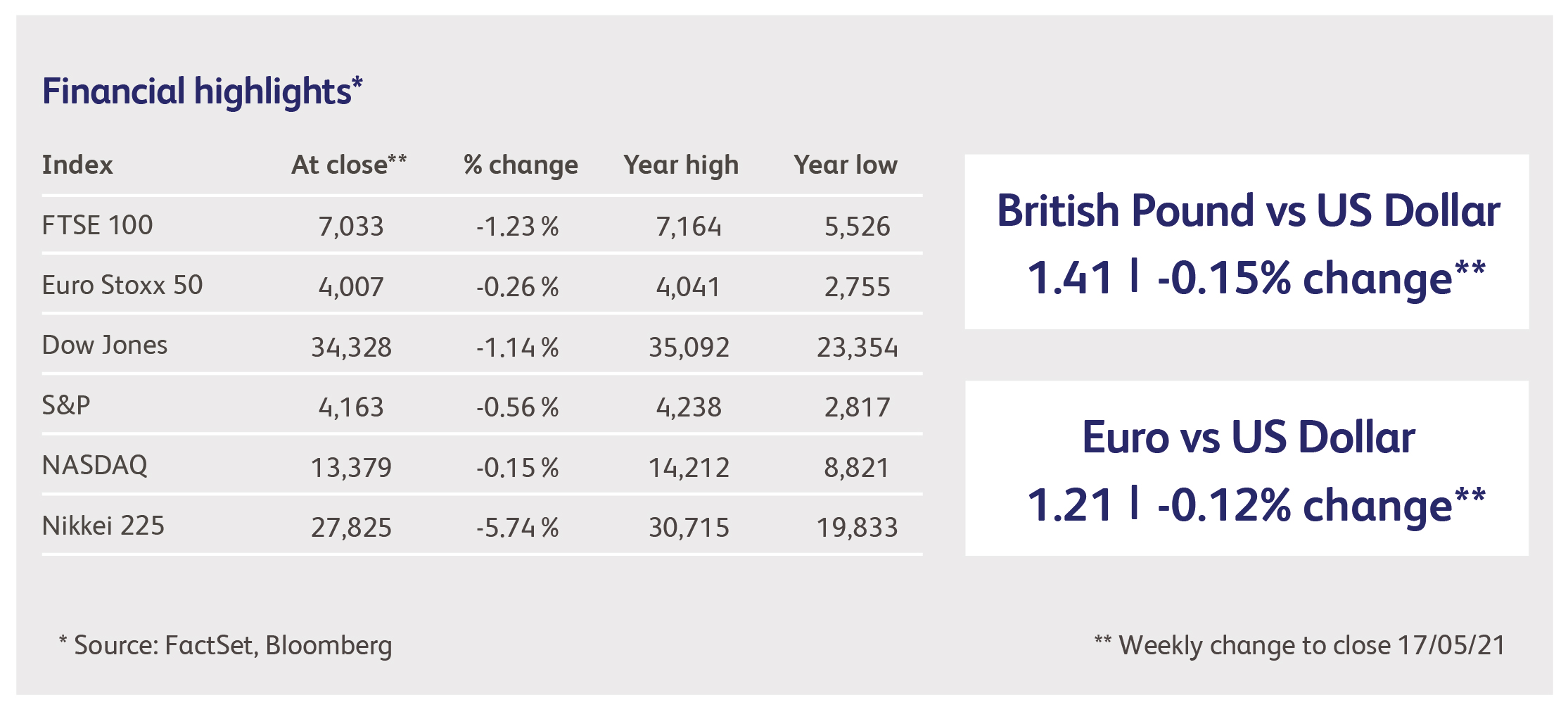 Stock focus
China Mobile Ltd., the largest mobile telecommunications corporate by market capitalisation and also the world's largest mobile network operator by total number of subscribers, is set to list on the Shanghai Stock Exchange as it is delisted by the New York Stock Exchange (NYSE). The NYSE is set to delist China Mobile Ltd. and two smaller rivals - China Telecom Corp. and China Unicom (Hong Kong) Ltd. - to comply with an investment ban introduced by former President Donal Trump. The three companies lost appeals against being kicked off the NYSE on May the 6th.
US telecommunications giants AT&T Inc. has agreed a deal with the US media company Discovery Inc. to combine their media assets into a new, publicly traded company. AT&T owns CNN, HBO and Warner Bros Entertainment, after acquiring Time Warner in 2018 for $108.7 billion. The new business, which is still to be named, will be led by the current Discovery CEO David Zaslav, and will see the merger of WarnerMedia, which owns HBO, CNN and Warner Bros Entertainment, with Discovery's home, cooking, nature and science shows. The two companies already offer streaming services through HBO Max and Discovery+, and the two companies declined to detail their long-term plans for the two services. The deal is still subject to approval by regulators, but the companies said they expect to close the deal in the middle of next year.
US e-commerce platform eBay Inc. has ended its year long search for a new CFO in appointing Steve Priest, the current CFO of airline JetBlue Airways Corp. eBay announced on Monday that Mr Priest is to succeed interim CFO Andy Cring from June the 21st. He has served as JetBlue's CFO since February 2017, after joining the company in August 2015 to manage its strategic initiatives.
Important information
This publication is intended to be Walker Crips Investment Management's own commentary on markets. It is not investment research and should not be construed as an offer or solicitation to buy, sell or trade in any of the investments, sectors or asset classes mentioned. The value of any investment and the income arising from it is not guaranteed and can fall as well as rise, so that you may not get back the amount you originally invested. Past performance is not a reliable indicator of future results. Movements in exchange rates can have an adverse effect on the value, price or income of any non-sterling denominated investment. Nothing in this document constitutes advice to undertake a transaction, and if you require professional advice you should contact your financial adviser or your usual contact at Walker Crips. Walker Crips Investment Management Limited is authorised and regulated by the Financial Conduct Authority and is a member of the London Stock Exchange. Registered office: Old Change House, 128 Queen Victoria Street, London, EC4V 4BJ. Registered in England number 4774117.