September brought an unexpected twist to the UK inflation narrative, with a surprising increase to 6.7% year-on-year, slightly surpassing consensus expectations of 6.6%. The service sector, which saw increasing prices, was noted as the primary driver. While this may encourage a more hawkish stance within the Bank of England ("BoE"), wage growth indicated signs of slowing, suggesting a potential easing in price pressures by the end of the year. The UK labour market also displayed signs of easing, with a decrease in payrolled employees and vacancies. The Times cited BoE Deputy Governor, Jon Cunliffe, who anticipates that interest rates will persist at higher levels for the foreseeable future. He noted mixed economic signals, with some indicators slowing, while others suggest that the labour market is beginning to cool. He acknowledged that the economy displayed more resilience in 2022 than previously thought.

A Deloitte survey revealed that Chief Financial Officers ("CFOs") at UK firms are becoming increasingly cautious about borrowing. The gap between those viewing bank borrowing as attractive versus unattractive has widened significantly. CFOs are also showing less enthusiasm for debt sales, with equity finance gaining popularity. Lingering concerns about the inflation outlook are influencing CFO sentiment, with most now believing that inflation has peaked. Nevertheless, they expect inflation to remain at 3.1% two years from now, above the BoE's target.

Last week saw a report from the UK economic forecasting group, EY Item Club, in which it increased its UK gross domestic product forecast for the year to 0.6% from its previous forecast of 0.4%. The anticipated improvement was primarily driven by wage growth outpacing inflation. However, geopolitical concerns, such as the Israel-Hamas conflict, have raised apprehensions about energy prices. Gas and oil prices have surged, climbing by nearly 50% in the UK since 5th October and Brent crude oil surpassing $90 per barrel. Independent economic research firm, Capital Economics, cautions that if gas prices remain elevated and oil reaches $100 per barrel, it could result in an average inflation rate 1% higher next year. UK Chancellor, Jeremy Hunt, also warned about the potential for higher borrowing costs due to these geopolitical events.

In the housing market, analysis from Hamptons showed landlords in the UK are facing an additional annual cost of £5.5 billion due to surging mortgage rates. Buy-to-let investors are collectively paying £15 billion per year in mortgage interest, marking a 58% increase since November 2021. Meanwhile, Bloomberg cited a survey which showed UK commercial property defaults are on the rise, with default rates on real estate debt reaching 4% in the first half of 2023. Concerns are also growing among UK households about heating bills as cold weather approaches. A YouGov poll revealed that 55% of Britons have already started using heating this year, while 42% have not. The End Fuel Poverty Coalition has warned that energy bills will be a more significant problem this winter, as prices remain nearly double their pre-Ukraine war levels, with no additional government support.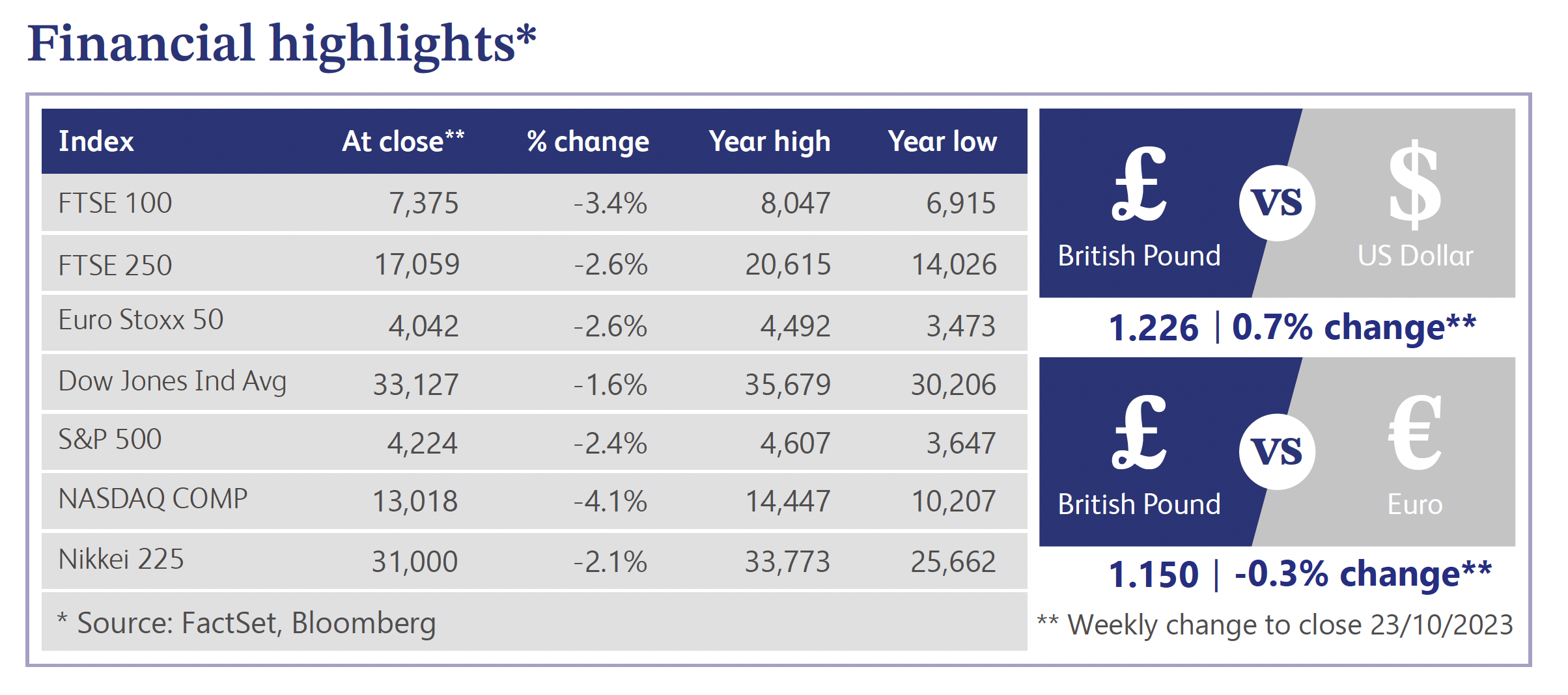 Stock Focus
Segro, the UK Real Estate Investment Trust ("REIT"), announced its third quarter results last week which showed a fall in contracted rental income. The new contracted headline rent for the nine months to 30 September came in at £58 million, down from £76 million a year earlier. The company also announced its occupancy rate slipped to 95.3% compared with 96.7% in the prior year. The shares declined approximately 3.8% last week, largely due to this announcement.

Bellway, the residential property developer, saw its share price decline by approximately 6.2% last week after announcing its full year results. The company reported a 4% drop in revenue and a 17% drop in operating profits due to the challenging economic environment. The company also announced that it is anticipating to complete 7,500 homes next year, compared to 10,945 homes in 2023. These headwinds are anticipated to continue into next year which will continue to put pressure on Bellway, despite the company's healthy balance sheet and strong landbank.

Rentokil Initial, the commercial pest control company, saw its shares plummet by approximately 23.8% last week on the back of its third quarter results. The company delivered strong performance in the third quarter, with revenue at constant exchange rates increasing to £1.4 billion, compared to £878 million in the previous year. However, investors showed significant concerns as the company announced that there was softer demand in North America caused by the macroeconomic backdrop. The US represents approximately 50% of Rentokil's revenue, largely as a result of its deal in 2021 to purchase Terminix for $6.7 billion.

Market Commentary prepared by Walker Crips Investment Management Limited.
Important information
This publication is intended to be Walker Crips Investment Management's own commentary on markets. It is not investment research and should not be construed as an offer or solicitation to buy, sell or trade in any of the investments, sectors or asset classes mentioned. The value of any investment and the income arising from it is not guaranteed and can fall as well as rise, so that you may not get back the amount you originally invested. Past performance is not a reliable indicator of future results. Movements in exchange rates can have an adverse effect on the value, price or income of any non-sterling denominated investment. Nothing in this document constitutes advice to undertake a transaction, and if you require professional advice you should contact your financial adviser or your usual contact at Walker Crips. Walker Crips Investment Management Limited is authorised and regulated by the Financial Conduct Authority and is a member of the London Stock Exchange. Registered office: Old Change House, 128 Queen Victoria Street, London, EC4V 4BJ. Registered in England and Wales number 4774117.