British high streets suffer worst month in 24 years; European equities rise; US President arrives in UK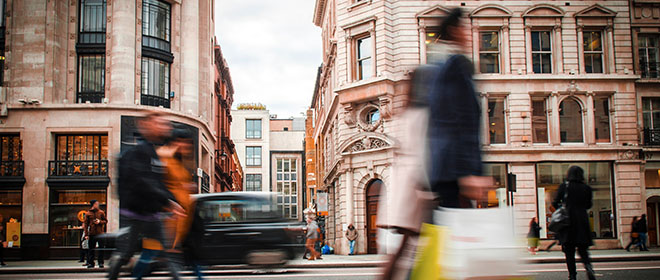 4 June 2019

The Weekly Note is brought to you by the ALPHA: r² discretionary service team.
Market news
British high streets suffered their worst month in 24 years in May, with sales dropping by 2.7% compared to the same period last year. The decline, revealed overnight, is actually the biggest fall since the British Retail Consortium's records began in 1995. Online stores were not immune to sluggish demand either; non-food internet sales grew by just 1.5%, another all-time low.
 
Britain's manufacturing sector also had a poor May, during which it shrunk for the first time in nearly three years. The IHS Markit manufacturing purchasing managers' index fell from 53.1 in April to 49.4 last month, putting it in contractionary territory. Part of the decline has been attributed to the fading effects of Brexit-related stockpiling.
 
European equities have broadly risen this week, making a partial recovery following the risk-off sentiment which affected global markets last week. The latest trade threat from China took aim at US imports of rare materials, which are key to the production of US technology goods. Meanwhile, Donald Trump threatened to raise tariffs on Mexican imports in response to what he views as unacceptable levels of illegal immigration. The S&P 500 slumped 2.6% last week.
 
The US President arrived in the UK on Monday. Having called the Mayor of London a "stone cold loser" just before landing, Trump was well-behaved during a visit to Buckingham Palace. Trump and Theresa May are set to have a tense conversation on the issue of Huawei, as May has indicated she will stand firm on the involvement of the Chinese company in the UK's 5G network, despite America's protests.
 
Trade concerns and the European parliamentary election results conspired to send developed market yields down last week. Fresh concerns over Italy's growing deficit sent yields on German, Spanish and Italian sovereign bonds lower in particular. The US 10-Year Treasury yield declined to a 2019 low of 2.14%.
 
Finally, fears of a global economic slowdown and a higher-than-expected US crude inventories put pressure on oil prices. Brent crude oil has fallen over 15% since the beginning of May.
The Weekly Note has a new look!
Subscribe today and email [email protected] to register your interest, and receive the full Weekly Note in your inbox every Tuesday.
Walker Crips
Old Change House
128 Queen Victoria Street
London EC4V 4BJ
020 3100 8000
www.wcgplc.co.uk
[email protected]
Important information
This publication is intended to be Walker Crips Investment Management's own commentary on markets. It is not investment research and should not be construed as an offer or solicitation to buy, sell or trade in any of the investments, sectors or asset classes mentioned. The value of any investment and the income arising from it is not guaranteed and can fall as well as rise, so that you may not get back the amount you originally invested. Past performance is not a reliable indicator of future results. Movements in exchange rates can have an adverse effect on the value, price or income of any non-sterling denominated investment. Nothing in this document constitutes advice to undertake a transaction, and if you require professional advice you should contact your financial adviser or your usual contact at Walker Crips.
Walker Crips Investment Management Limited is authorised and regulated by the Financial Conduct Authority and is a member of the London Stock Exchange. Registered office: Old Change House, 128 Queen Victoria Street, London, EC4V 4BJ. Registered in England number 4774117.