Market Commentary: Week to 15 December 2020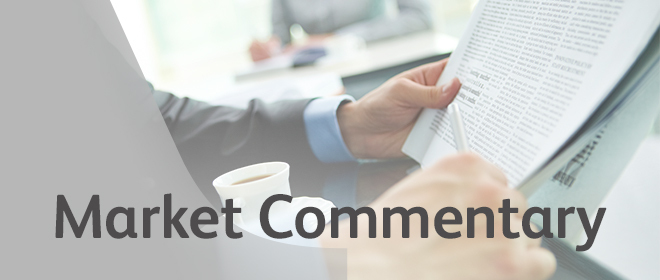 15 December 2020

Market News
The European Central Bank (ECB) appears to have joined the ranks of the anti-vaxxers, at least on the basis of its latest projections for economic growth. Despite the uplifting news on vaccines, the central bank cut its forecast for next year's EU growth to just 3.9%, from a previous estimate of 5.0%, and pushed out its expectations for a robust rebound to 2022. The bank's policymakers are even more focused on near-term weakness: they now expect the EU economy to contract by 2.2% in the fourth calendar quarter of this year – a huge change from the previous forecast of 3.2% growth. The bottom line, according to the bank, is that a full economic recovery is 18-24 months away.
Such pessimism conveniently provided cover for the bank to increase its asset-purchasing programme by €500 billion to a total of €1.85 trillion, and to extend its duration for another nine months, to June 2022. The new plan allows the bank to spend about €100 billion per month on government bonds. At the same time, the bank extended its negative interest rate to banks for loans by 12 months, also to June 2022, until which time banks will continue to be paid to borrow money from the ECB. But the best news of all is that the ECB now has something new to buy, after the EU's landmark €1.8 trillion budget and stimulus package finally got over the line. Part of the package will be financed by newly-issued, jointly-backed bonds. This new debt fills the need for an EU-wide "safe asset" to replace German government bonds, and will finally give investors a security representing the whole of the bloc.
All of this should provide further support for European stockmarkets, though they have never had any doubt about the efficacy of vaccines. The benchmark Euro Stoxx 50 Index is up 18% since Pfizer's vaccine announcement ignited this latest stage of the pandemic boom, compared with a rise of 12% for the S&P 500. European bond markets don't need much encouragement, in truth, with both Spanish and Portuguese government 10-year bond yields dipping below zero over the past two weeks, despite unprecedented levels of government spending. Things are not going entirely to plan for the ECB, however, as the Euro continues to strengthen and is now near its highs of the last five years. To be fair, though, this is as much a story of US dollar weakness as it is of Euro strength.
The anti-vaxxers actually have a case in the US, where the head of the FDA was, literally, threatened with dismissal by the White House on Friday if he did not approve Pfizer's vaccine. He approved it. It's hard to assess what damage has been done to the credibility of the federal government over the past four years, but it cannot have been helped by the sight last week of 126 congressmen, including the most senior Republican member of the house, joining a lawsuit to overturn the results of the election. President Trump, meanwhile, is accumulating an enormous war-chest of donations from supporters who give credit to the story of election-rigging.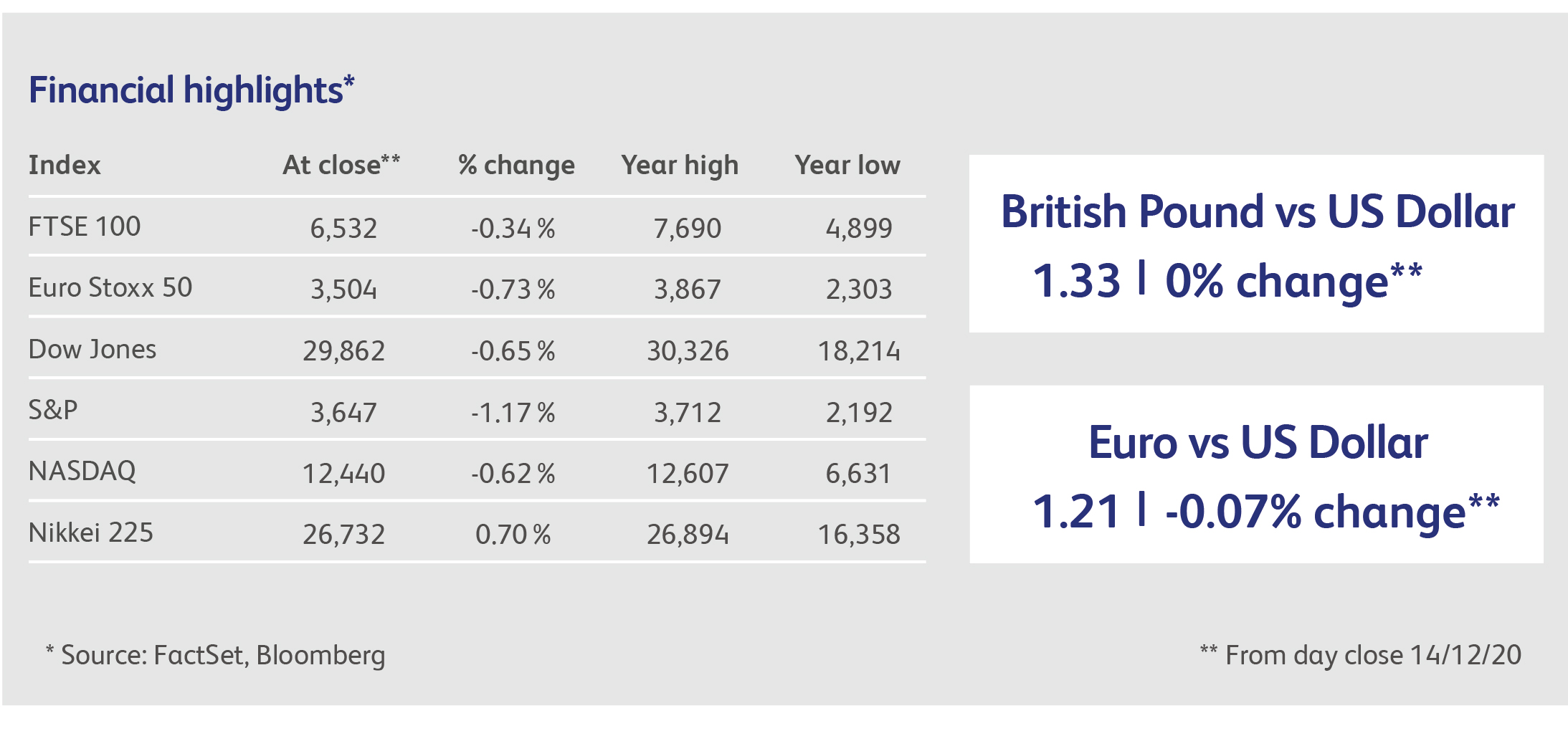 Stock focus 
Regulatory pressures are building on technology companies. China's state market regulator fined the internet giants Alibaba and Tencent for anti-competitive behaviour last week, and promised a lengthy investigation. This follows the recent cancellation of Ant Group's initial public offering, which would have been one of the largest ever, following a spat with Chinese regulators. The EU discloses details of its Digital Markets Act today, and drafts of the regulation suggest that technology companies could face fines of 10% of annual revenue if they don't comply with the new rules. The UK will announce its own, similar Online Safety Bill today.
When Tesla enters the S&P 500 Index on Friday with a 1.5% weight, it will play havoc with data used to gauge the index's valuation. The Index's "forward" price-earnings ratio, which compares the price of companies relative to their expected profits, is estimated to increase by 10%, from 22.1 to 24.3. Tesla's valuation is abnormally high because the growth in its share price has not been accompanied by growth in profits: since December 2018 for example, the share price has increased by eight times, but expectations for its profits have actually moved lower.
Toyota reminded investors that competition exists in the automotive industry, as it announced substantial progress on its solid-state battery technology. The technology being developed by Toyota will have a range more than twice the distance of a vehicle running on a conventional lithium-ion battery under the same conditions, will take only 10 minutes to recharge, and have minimal safety concerns. Toyota plans to be the first company to sell an electric vehicle equipped with a solid-state battery, in the early 2020s. Although Japanese companies currently dominate this technology, Chinese rivals are emerging and Volkswagen is planning to have production running for solid-state batteries as soon as 2025.
In an echo of the internet boom, the two technology companies that launched on US stockmarkets last week, Airbnb and DoorDash, had combined revenues of $6 billion and a combined market valuation of $169 billion.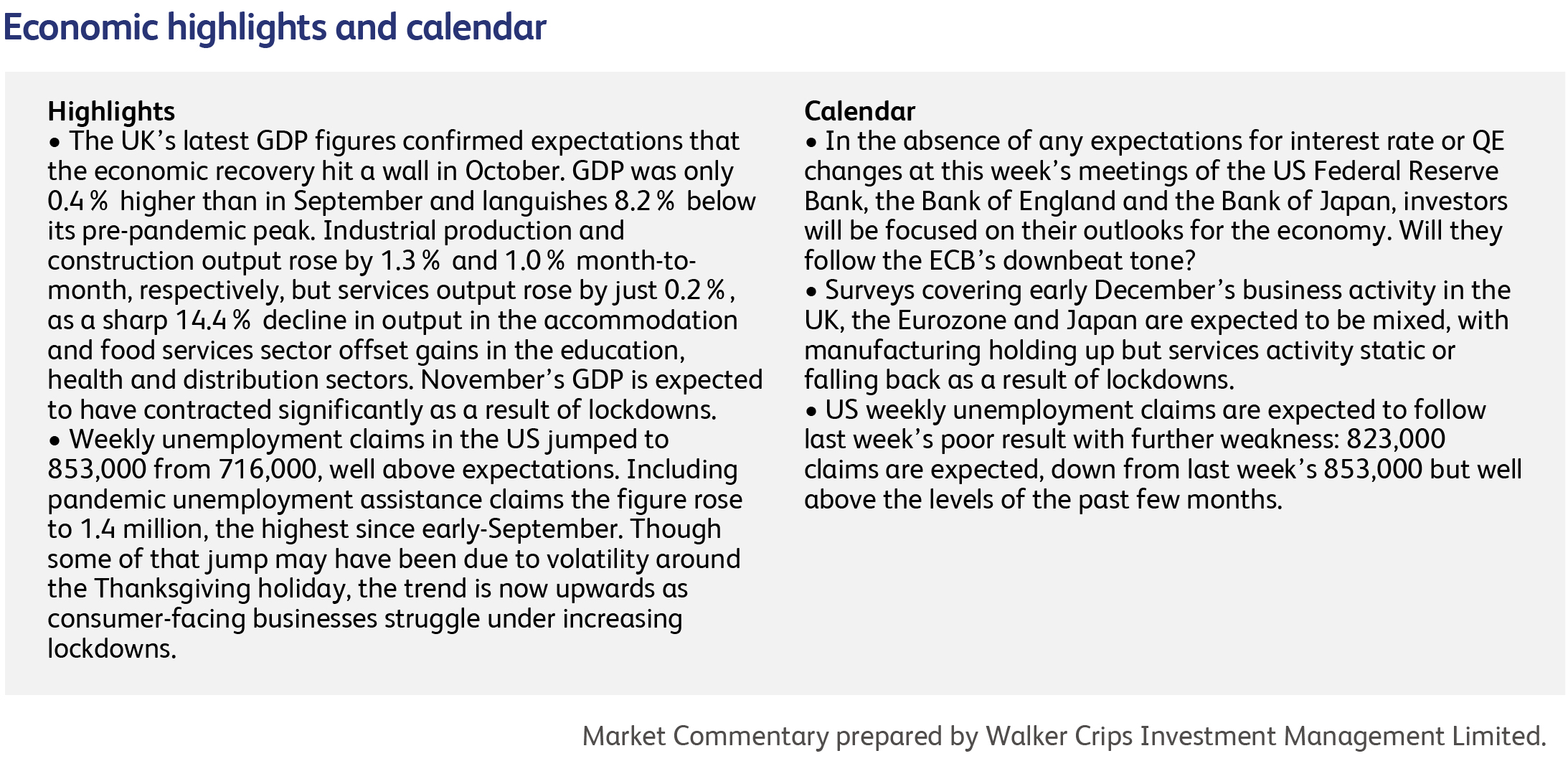 Important information
This publication is intended to be Walker Crips Investment Management's own commentary on markets. It is not investment research and should not be construed as an offer or solicitation to buy, sell or trade in any of the investments, sectors or asset classes mentioned. The value of any investment and the income arising from it is not guaranteed and can fall as well as rise, so that you may not get back the amount you originally invested. Past performance is not a reliable indicator of future results. Movements in exchange rates can have an adverse effect on the value, price or income of any non-sterling denominated investment. Nothing in this document constitutes advice to undertake a transaction, and if you require professional advice you should contact your financial adviser or your usual contact at Walker Crips. Walker Crips Investment Management Limited is authorised and regulated by the Financial Conduct Authority and is a member of the London Stock Exchange. Registered office: Old Change House, 128 Queen Victoria Street, London, EC4V 4BJ. Registered in England number 4774117.