Market Commentary: Week to 16 February 2021
16 February 2021

Market News
It was another week of frenzied activity in global stockmarkets, with blue-chip indexes reaching or testing all-time highs in the US, Europe, Asia and South America. The technology sector, epitomised by the NASDAQ stockmarket index, also reached new all-time highs, as did cryptocurrencies, cannabis stocks and microcap stock indexes. Over the last 20 days, an average 15.8 billion shares have traded each day on all US exchanges, according to data compiled by Bloomberg. That's just below the 16.1 billion hit in March last year, at the moment of maximum panic, which was itself the highest in more than a decade. A similar measure of euphoria in the options market - volume in bullish bets using call options - hit another record. Bank of America reported that $36 billion, a record, poured into US equity funds last week, including a record $5.4 billion into technology funds. In a reminder to investors of just how frothy markets can get, the Japanese Nikkei stockmarket index rose to its highest level since August 1990 – but that still leaves it 20% below its all-time high.
Nowhere is the race between the virus and the vaccines more finely poised than in the US, where cases involving the new, more-infectious B117 variant are doubling about every ten days. At this rate, B117 is likely to become the dominant strain of the virus by the end of March. It's true that the UK has been able to bring the new variant under control, but only by means of a near-total lockdown that has forced the economy back into recession. Current US lockdowns are nowhere near that level, and all the political pressure right now is building in the direction of fewer restrictions. On the other hand, the quickening pace of vaccinations in the US could prevent this scenario from playing out. At stake is a delay of about two months in the economic rebound.
China, predictably, reacted to the UK's removal of Chinese state-backed broadcaster CGTN's license last week by taking BBC World News off the air. According to the authorities in Beijing, BBC reports on China violated regulations that news bulletins should be "truthful and fair". The UK and China are on a collision course, given denunciations of China's Hong Kong policies, changes to the British National (Overseas) visa programme encouraging Hong Kong's citizens to emigrate to the UK, plus BBC reporting on the early days of the pandemic in Wuhan and the situation in Xinjiang. The Prime Minister poured fuel on the fire over the weekend, by backing President Biden's call on China to release information on the virus and not to interfere in the WHO's investigation.
Falling out with China has narrowed the UK's options for increased trade post-Brexit, at a time when London's pre-eminence as a centre for international financial services is coming under threat. Amsterdam overtook London's share of trading in European securities in January, after Brexit saw about half of the City's volumes move to the continent. It's no surprise that London's share of securities trading is slipping, especially as the EU is keen to beef up its own capabilities. Another threat, however, may come from New York, which doubled its share of the Euro interest rate swap market last month, as London's share fell by 75%.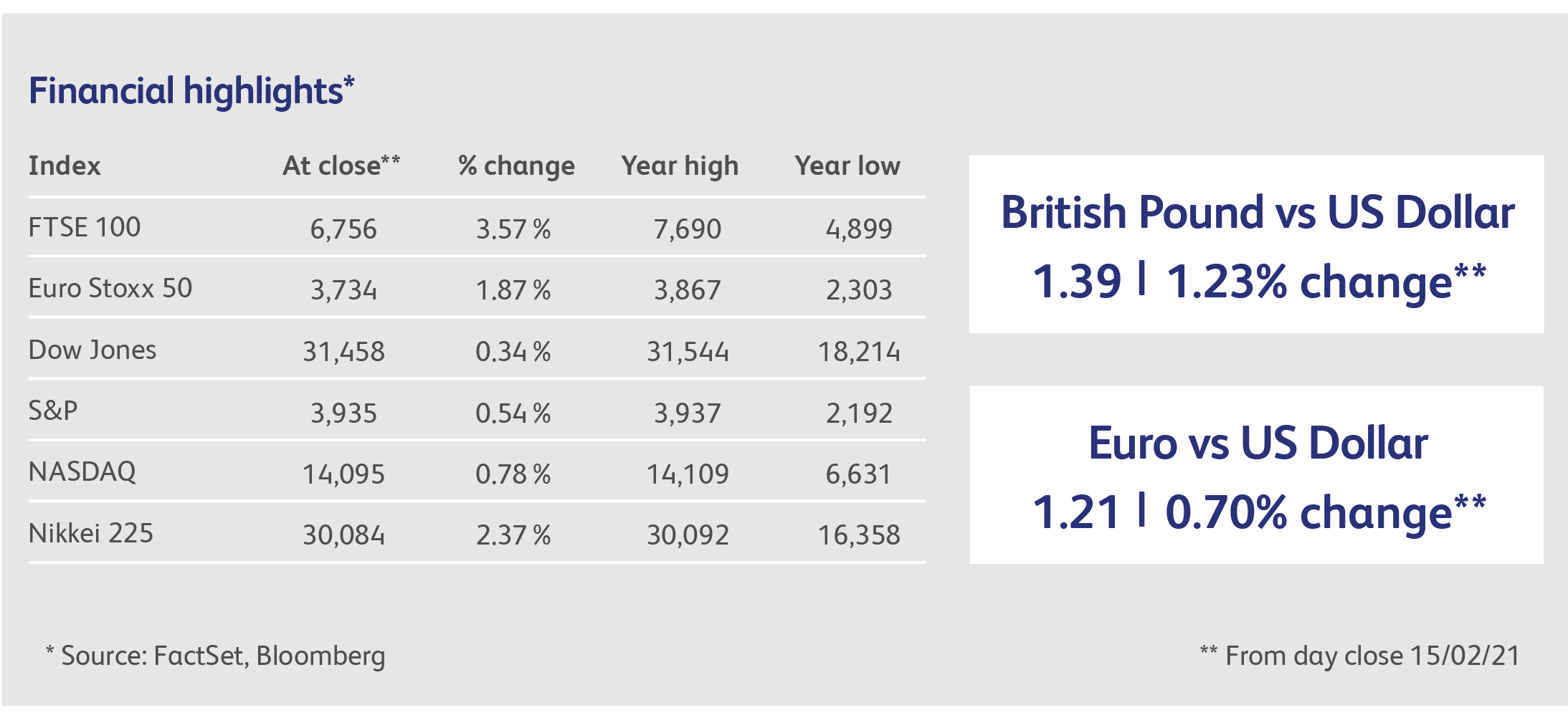 Stock focus 
Walt Disney revealed a surge in Disney+ subscribers and lower losses at its Covid-crippled theme parks, helping the world's largest entertainment company return to profit in the latest calendar quarter. Subscribers to the Disney+ family-friendly video service grew to 94.9 million in the period, exceeding the expectations of most analysts. Revenues and profits also topped projections, but it wasn't enough to prevent a 2% share price decline on the day.
Toyota announced it will bring three new electrified vehicles to market in the US, with sales expected to begin in 2022. The company said two of the new vehicles will be all electric, while the other will be a plug-in hybrid. They also said that by 2025 all the Toyota and Lexus models will have an electrified option. It comes as part of the company's strategy of reducing greenhouse gas emissions by offering drivers lower carbon choices.
Coupang Inc., the South Korean e-commerce giant, has unveiled its filing for a U.S. initial public offering (IPO) which is anticipated to lead to a valuation exceeding $50 billion. This would make it the largest U.S. IPO of a foreign company since Alibaba Group Holding Ltd.'s in 2014. The company was founded in 2010 and is backed by Japan's SoftBank Group Corp.. Coupang is an e-commerce company, like Amazon.com Inc. and Alibaba, but has managed to fend them off in the South Korean market.
Kraft Heinz has agreed to sell its Planters peanuts and snacks business to Hormel Foods in a $3.35 billion all-cash deal. The sale comes as Heinz looks to strengthen its balance sheet and pay off debt, and revive growth.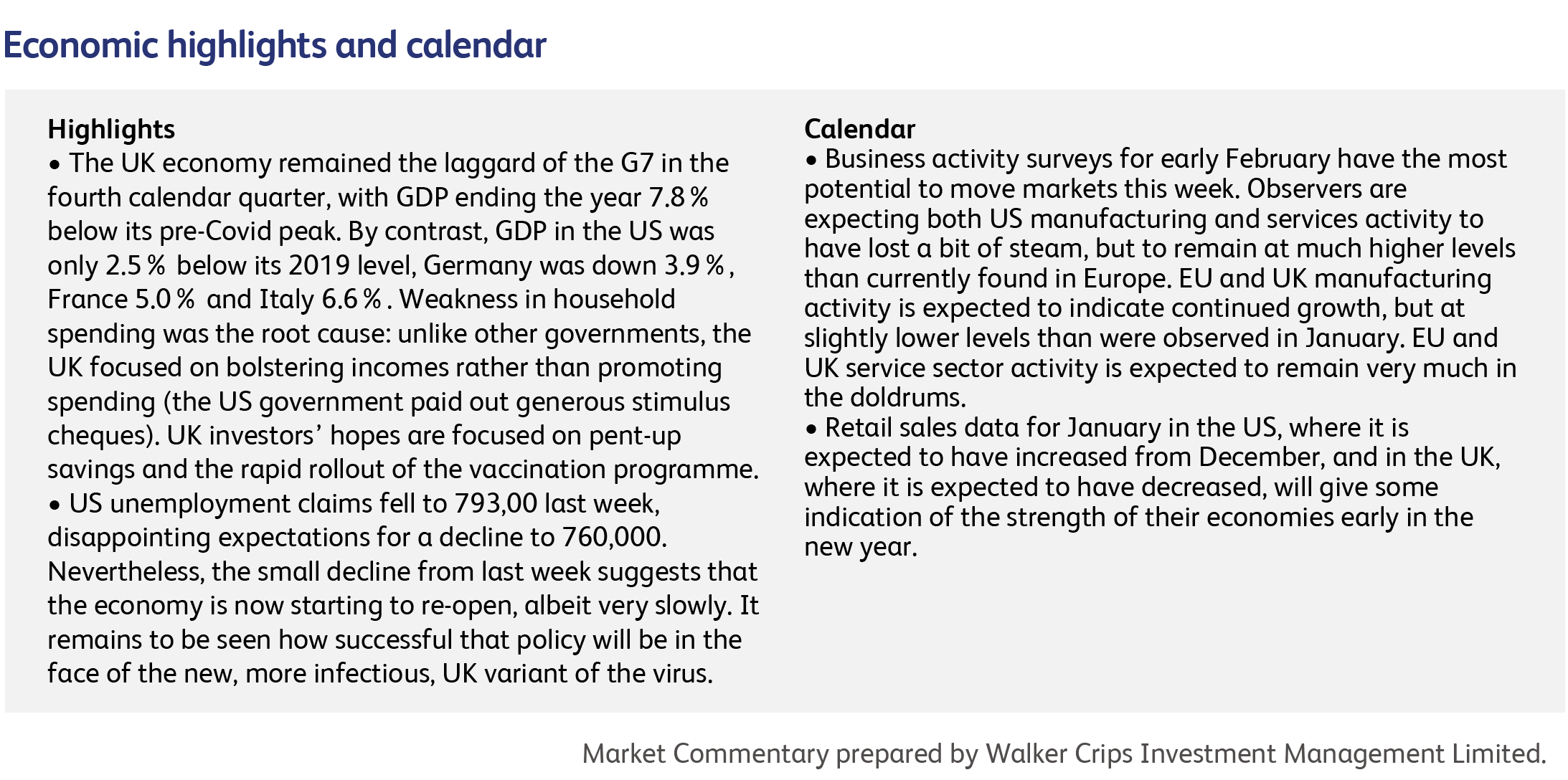 Important information
This publication is intended to be Walker Crips Investment Management's own commentary on markets. It is not investment research and should not be construed as an offer or solicitation to buy, sell or trade in any of the investments, sectors or asset classes mentioned. The value of any investment and the income arising from it is not guaranteed and can fall as well as rise, so that you may not get back the amount you originally invested. Past performance is not a reliable indicator of future results. Movements in exchange rates can have an adverse effect on the value, price or income of any non-sterling denominated investment. Nothing in this document constitutes advice to undertake a transaction, and if you require professional advice you should contact your financial adviser or your usual contact at Walker Crips. Walker Crips Investment Management Limited is authorised and regulated by the Financial Conduct Authority and is a member of the London Stock Exchange. Registered office: Old Change House, 128 Queen Victoria Street, London, EC4V 4BJ. Registered in England number 4774117.