Market Commentary: Week to 16 March 2021
16 March 2021

Market News
It used to be the job of central bankers to take away the punchbowl before the party got going. Nowadays they supply the punch, so the eleven meetings of central bankers spanning Washington to Tokyo this week are likely to set the tone in some of the world's biggest capital markets. While most central bankers have already had the chance to comment on the recent rise in sovereign bond yields, caused by expectations of rising inflation, this will be the first opportunity for most of them to act. Government bond yields underpin the world's capital markets, determining not only the return of safe haven investments but also the cost of borrowing for those higher up the risk scale, so the failure of central bankers to act could be viewed as an implicit tightening of monetary policy. That's not what most investors want to hear. 
Attention will be focused on the US Federal Reserve's commentary, after Chairman Powell already dismissed the rise in yields as a sign of positive economic expectations. The US dollar has U-turned since his comments, bouncing off its lows of the last three years as yield-starved investors chase whichever currency offers the best risk-free returns. The Bank of England is expected to take a view similar to the Fed's, focusing on the better outlook for growth. The Bank of Japan will unveil a policy review, possibly revising the policy of buying domestic equities that is accused of encouraging speculative excess. It wasn't much of a surprise that the ever-dovish European Central Bank flinched in the face of rising yields in its meeting last week, promising to accelerate bond purchases "significantly" in an attempt to keep yields under control. That's what investors want to hear. 
The only safe bond market over the past month turned out to be Chinese government bonds. Having already recovered from the pandemic, and offering yields of over 3%, China is beginning to attract investors from all over the world. The same cannot be said of the Chinese stockmarket, however, where the supply of punch is very much on the decline. About $1.3 trillion has been wiped off the value of Chinese stockmarket since market regulators publicly warned investors about asset bubbles last month (in China when the government speaks, investors listen). Regulators followed that up with a crackdown on the Chinese financial technology sector, focused largely on the internet giants Alibaba and Tencent. Last week, Premier Li Keqiang promised at the National People's Congress to expand oversight of financial technology, stamp out monopolies, and prevent the "unregulated" expansion of capital. Yesterday, President Xi Jinping issued an unusually strong warning that some internet "platform companies are developing in non-standardized ways and that presents risks". 
The slump in equities has inconvenienced the Chinese fund management industry, which had seen inflows of $83 billion in the first two months of the year (according to Bloomberg), and whose leading lights had lately achieved cult status. One such manager, Zhang Jun, had been hailed on social media as "Prince Charming" and "Brother Kun" after his fund returned 95% last year. However, when the market turned and the fund lost 20% in short order, investors turned on their former hero, abusing him with epithets such as "Kun the dog".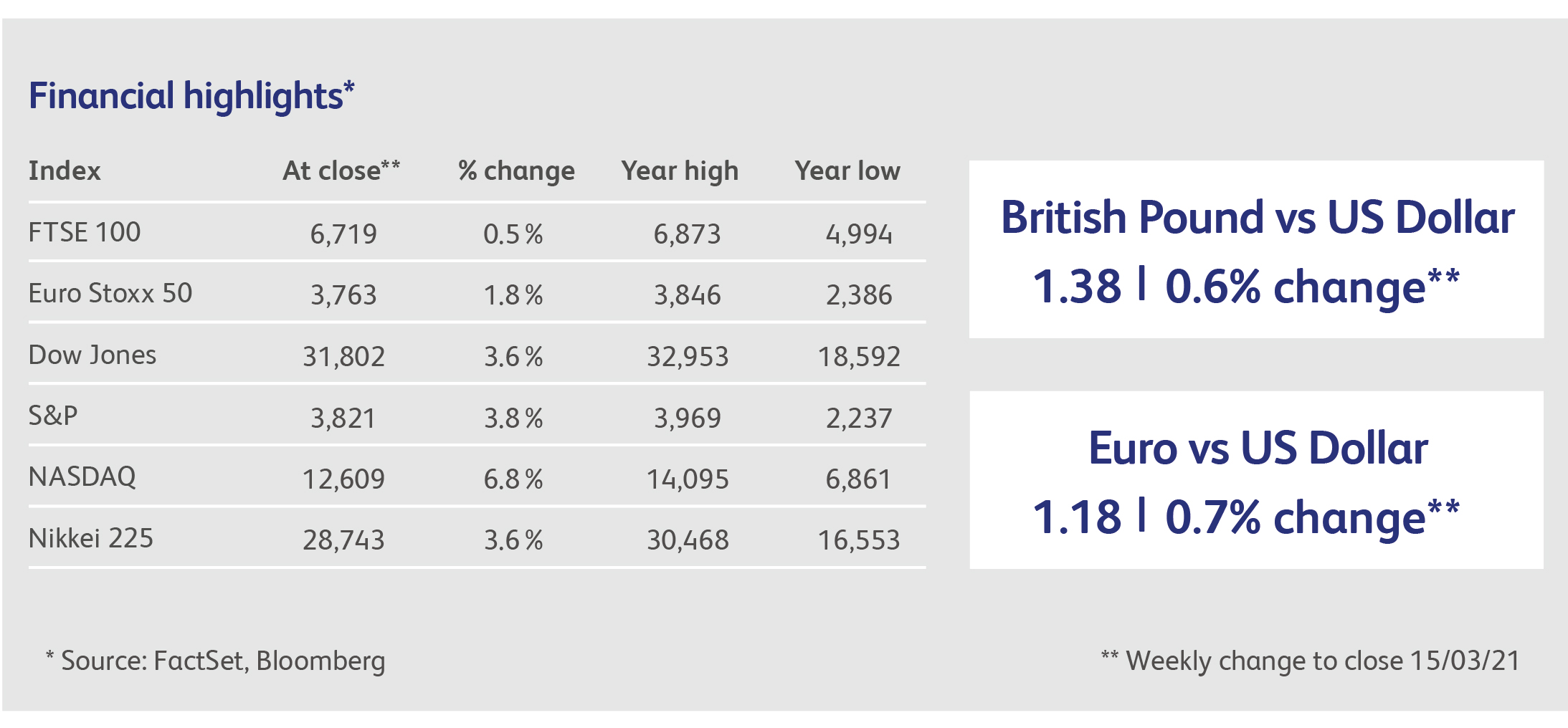 Stock focus
Renault plans to sell its 1.5% stake in Daimler, worth about €1.2 billion to "accelerate the financial de-leveraging of its automotive activity,". The cash from its stake in Daimler would allow Renault to protect credit ratings that have been assigned a negative outlook by ratings agencies. Daimler shares have surged since the company announced plans last month to spin off its truck unit, and the shares are currently trading near a three-year high. 
Having already found itself at the epicentre of the EU's vaccine crisis, AstraZeneca may have encountered problems with the planned delivery of 180 million doses to the bloc in the three-month period through June. It's thought that the company will deliver less than half that number, according to Bloomberg calculations based on delivery projections disclosed by one member state. AstraZeneca's efforts to redirect vaccine supplies from one country to another may have been hampered by nations becoming increasingly protectionist. The company's problems were further compounded when Italy, France and Germany joined a growing list of European countries that have suspended the use of some or all of their Astra Covid shots following concerns it could cause blood clots. 
Asia's largest conglomerate, Tencent Holdings, was censured by China's antitrust watchdog as part of an expanding crackdown by Chinese regulators. The company received a token fine for anti-competitive behaviour, along with taxi-hailing giant Didi Chuxing, but this may just be the beginning. The concern is that Tencent's financial technology business suffers the fate of rival Alibaba's Ant Financial unit, which has been required to establish a highly-regulated financial holding company to include its banking, insurance, and payments services.

Important information
This publication is intended to be Walker Crips Investment Management's own commentary on markets. It is not investment research and should not be construed as an offer or solicitation to buy, sell or trade in any of the investments, sectors or asset classes mentioned. The value of any investment and the income arising from it is not guaranteed and can fall as well as rise, so that you may not get back the amount you originally invested. Past performance is not a reliable indicator of future results. Movements in exchange rates can have an adverse effect on the value, price or income of any non-sterling denominated investment. Nothing in this document constitutes advice to undertake a transaction, and if you require professional advice you should contact your financial adviser or your usual contact at Walker Crips. Walker Crips Investment Management Limited is authorised and regulated by the Financial Conduct Authority and is a member of the London Stock Exchange. Registered office: Old Change House, 128 Queen Victoria Street, London, EC4V 4BJ. Registered in England number 4774117.