Market Commentary: Week to 30 March 2021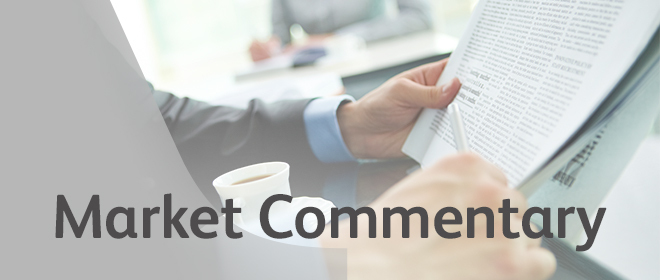 30 March 2021

Market News
For a decade and a half, China has been the primary engine of global economic growth. Indeed, without China's massive economic stimuli following the Credit Crunch, and various other crises, growth in the western world might well have floundered for years. The pro-trade and pro-globalisation western world allowed Chinese companies to export its products freely, and to undercut their own manufacturers, while China provided a massive and rapidly-growing market for other western companies to sell their goods into. Above all else, the steady supply of cheap Chinese goods ensured that the prices of many goods in the western world stayed low and, in many cases, got lower; deflation in goods prices offset relatively rapid inflation in services, meaning that inflation, as a whole, was contained and central banks could maintain ultra-low, growth-friendly interest rates and other stimulative policies. 
The equation was simple: China offered growth but needed foreign investment, and foreign companies needed growth and had capital to invest. But that relationship has become a lot more complicated over the last several years. For a start, China no longer craves foreign investment or expertise to the same degree. That means it is more inclined to impose its own rules on foreign companies: rules that favour domestic companies, and that require complete obedience with the Chinese Communist Party's policies. 
Such politicisation of the corporate world has irked western governments and resulted in the awkward relationships that now exist between them and China. President Biden had already embraced much of the protectionist Trump trade agenda towards China. This week, relations with the EU reached a new low as China's growing sensitivity toward criticism of the human-rights situation in Xinjiang ensnared more companies. Chinese landlords closed six Hennes & Mauritz (H&M) stores in a backlash against an undated H&M statement on its website that expressed concern about reports of forced labour in the Xinjiang region, a major producer of cotton used in the global apparel supply chain. The Nike, Adidas and Burberry brands were also caught up in the furore. 
The mass tantrums appear to have been manufactured, initially, by the Communist Youth League, digging up the H&M statement and posting it on local online forums just after the EU sanctioned four Chinese officials accused of running internment camps in Xinjiang. The propaganda system, the Foreign Ministry, and the Ministry of Commerce all jumped on the bandwagon, along with the masses on line. Tens of Chinese stars publicly renounced their sponsorship contracts with the targeted firms. 
It now seems inconceivable that the EU-Chinese Comprehensive Agreement on Investment will be formally ratified, despite having been concluded in principle by the leaders of the EU and China. This treaty was regarded as the most ambitious trade agreement China had ever concluded, and was viewed as a significant step towards market liberalisation in China. As this is the 100th anniversary year of the Party we should expect more campaigns against perceived foreign provocations. China's relationship with most developed economy countries deteriorates, companies from those countries with significant consumer businesses in the country are increasingly in an impossible PR situation.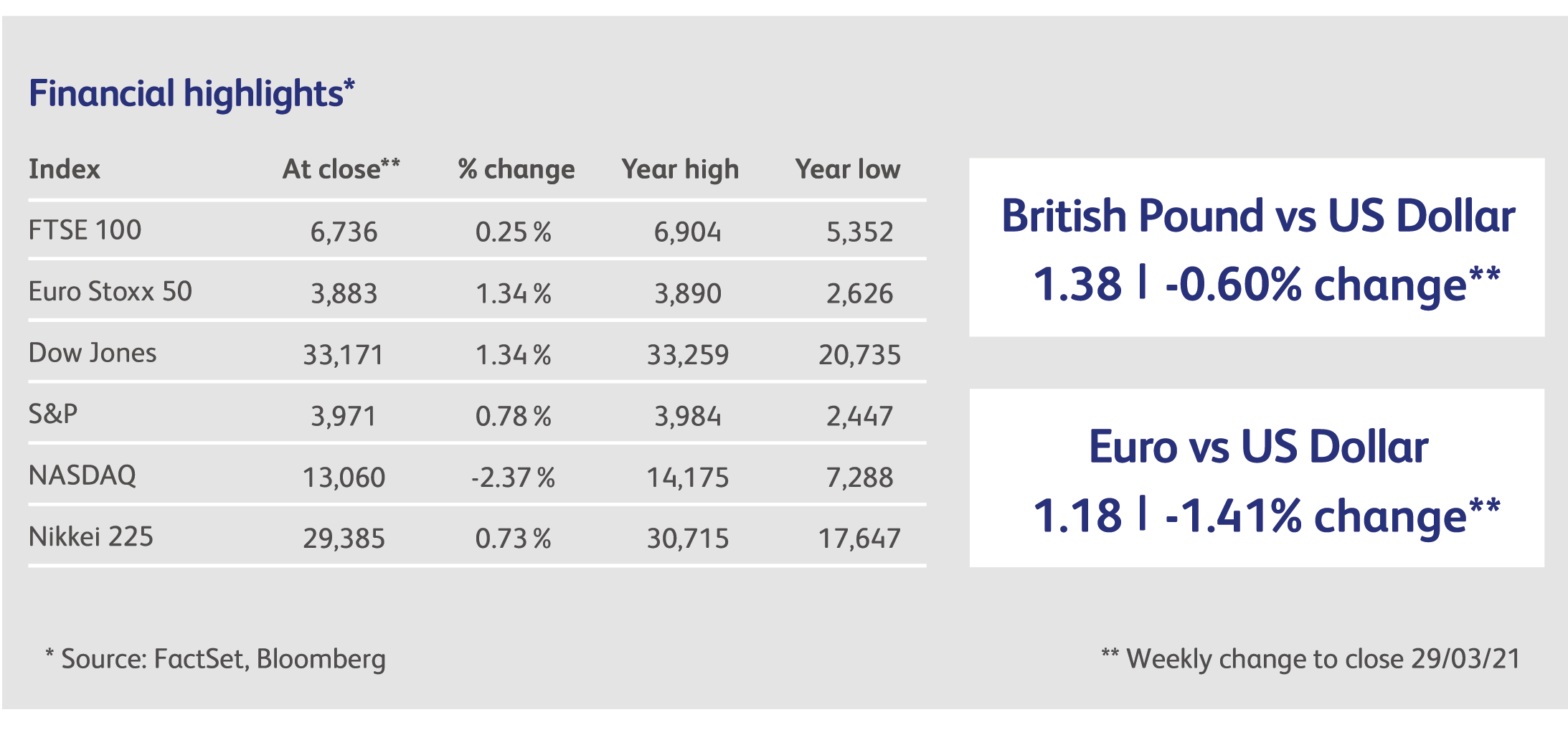 Stock focus
The future role of the office was brought back into the spotlight this week as JPMorgan and Salesforce joined a growing list of companies looking to unload big blocks of office space. The rise of remote working, necessitated and accelerated by the pandemic, has led to uncertainty around future demand for office space. JP Morgan started marketing 700,000 square feet of office space in lower Manhattan earlier this year, and according to Savills Inc., a real-estate services firm, this is the largest block of space available for sublease in Manhattan. Brokers say PricewaterhouseCoopers and Yelp Inc. have also listed space in New York for sublease. 
Tesla's Technoking, or in common parlance Chief Executive, Elon Musk has said the company will now be directly accepting Bitcoin from consumers wishing to purchase cars. Currently, the pay by Bitcoin system is only available in the US, but Mr Musk has said the feature will expand to other countries later this year. Mr Musk also tweeted "Bitcoin paid to Tesla will be retained as Bitcoin, not converted to fiat currency." This comes after last months announcement that Tesla had invested $1.5 billion into the digital currency. 
Also over the past week TuSimple Inc., the self-driving truck company has filed for an IPO. However, its China connections have caught the attention of the US regulators, as autonomous driving technology is considered a critical technology. The Committee on Foreign Investment in the US (Cfius), alerted TuSimple earlier this month that it was probing a Chinese investment in the company from 2017, according to IPO filings. Founded in 2015, the company now has 800 workers, and according to the filings had revenues of $1.8 million and a net loss of $177.9 million last year. TuSimple has so far made its money as a traditional freight-hauler, not from selling its self-driving technology, which will be ready in 2024.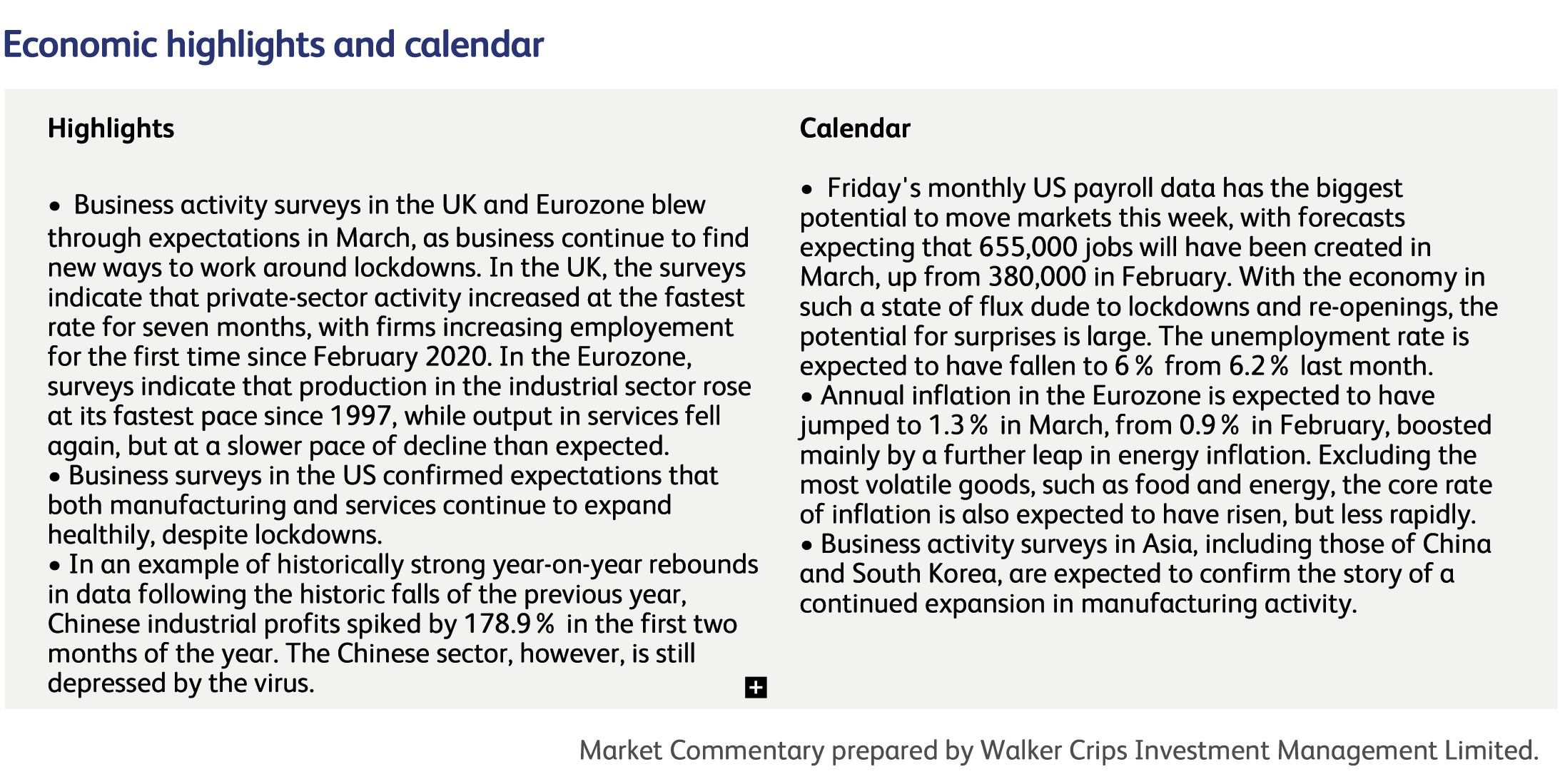 Important information
This publication is intended to be Walker Crips Investment Management's own commentary on markets. It is not investment research and should not be construed as an offer or solicitation to buy, sell or trade in any of the investments, sectors or asset classes mentioned. The value of any investment and the income arising from it is not guaranteed and can fall as well as rise, so that you may not get back the amount you originally invested. Past performance is not a reliable indicator of future results. Movements in exchange rates can have an adverse effect on the value, price or income of any non-sterling denominated investment. Nothing in this document constitutes advice to undertake a transaction, and if you require professional advice you should contact your financial adviser or your usual contact at Walker Crips. Walker Crips Investment Management Limited is authorised and regulated by the Financial Conduct Authority and is a member of the London Stock Exchange. Registered office: Old Change House, 128 Queen Victoria Street, London, EC4V 4BJ. Registered in England number 4774117.