Market Commentary: Week to 21 November 2023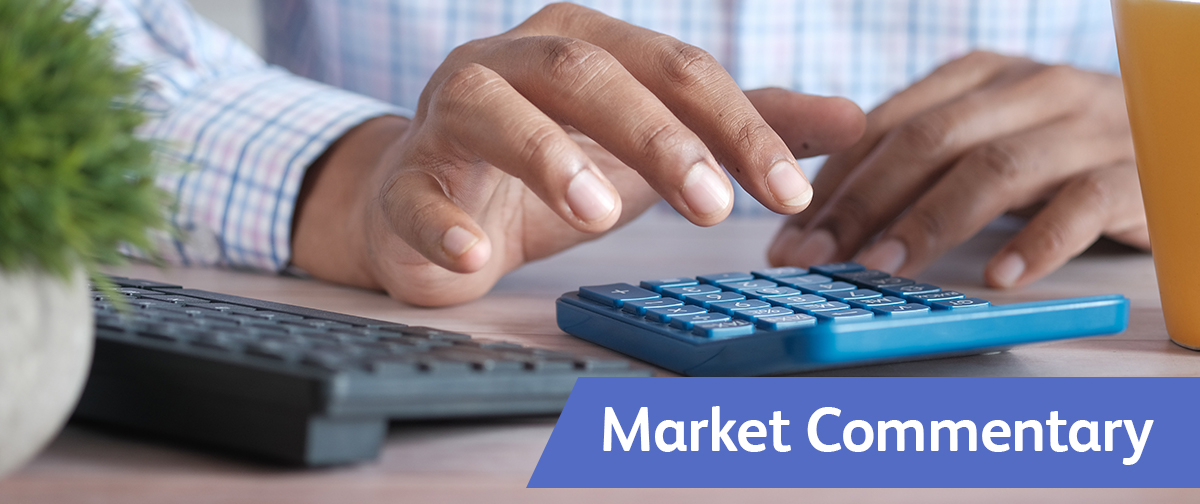 21 November 2023



Market News
Last week saw the UK October inflation figures witness a significant drop, with the headline Consumer Price Index ("CPI") standing at 4.6% year-on-year, below the consensus expectations of 4.8% and a substantial decrease from the prior month's 6.7%. Core inflation also moderated to 5.7% versus a consensus estimate of 5.8% and September's 6.1% reading. The breakdown from the Office for National Statistics ("ONS") attributed this decline primarily to housing and household services, where the annual rate for CPI was at its lowest level since records began in 1950. The Bank of England ("BOE") has also been closely monitoring service prices and noted a decrease to 6.6% from 6.9% last month. This, combined with softer labour market data, reinforces expectations that the BOE's rate cycle has peaked, with the possibility of an interest rate cut coming as early as next May. However, The Times reported that money markets have been pricing in rate cuts from as early as March after the slowdown in inflation. BOE policymakers continue to signal caution over rate cut bets, maintaining the narrative that rates will remain higher for longer.

Recent reports indicate that UK pay may continue to grow, hindering the BOE's ability to meet its inflation target in the near term. A survey by the Chartered Institute of Personnel and Development revealed that both private and public sector employers are planning 5% pay rises, potentially leading to the largest pay increase for public sector workers since 2012. Following the report, last week also saw wage growth continue to remain at elevated levels, with October's figure coming in at 7.9% compared to a forecast of 7.3% and a previous reading of 8.1%. BOE Chief Economist Huw Pill has adopted a more hawkish tone, warning that pay growth is stubbornly high, strengthening the case for keeping interest rates elevated for an extended period. Additionally, UK Prime Minister Rishi Sunak and Chancellor Jeremy Hunt are considering plans to cut inheritance tax, aiming for fiscal stimulus amid an improved economic outlook and falling inflation.

While the recent drop in inflation is welcome news, challenges persist in the UK economy. The retail sector faces a potential recession, with consumers likely to hold back spending into the holiday season. The property market remains fragile, with asking prices falling 1.7% in October according to a report by the Royal Institute of Chartered Surveyors, indicating reduced affordability amid higher mortgage rates. Energy price squeezes are expected to persist until mid-2024 with the Ofgem energy price cap set to rise 5% in January, impacting households. The government's move to cut inheritance tax reflects attempts to stimulate economic activity. Nationwide's caution about creeping mortgage arrears, though slower than expected, underscores the economic uncertainty and high borrowing costs. As the BOE faces pressure to manage inflation and support the economy, the decisions it makes on interest rates and policy guidance in the coming months will be crucial.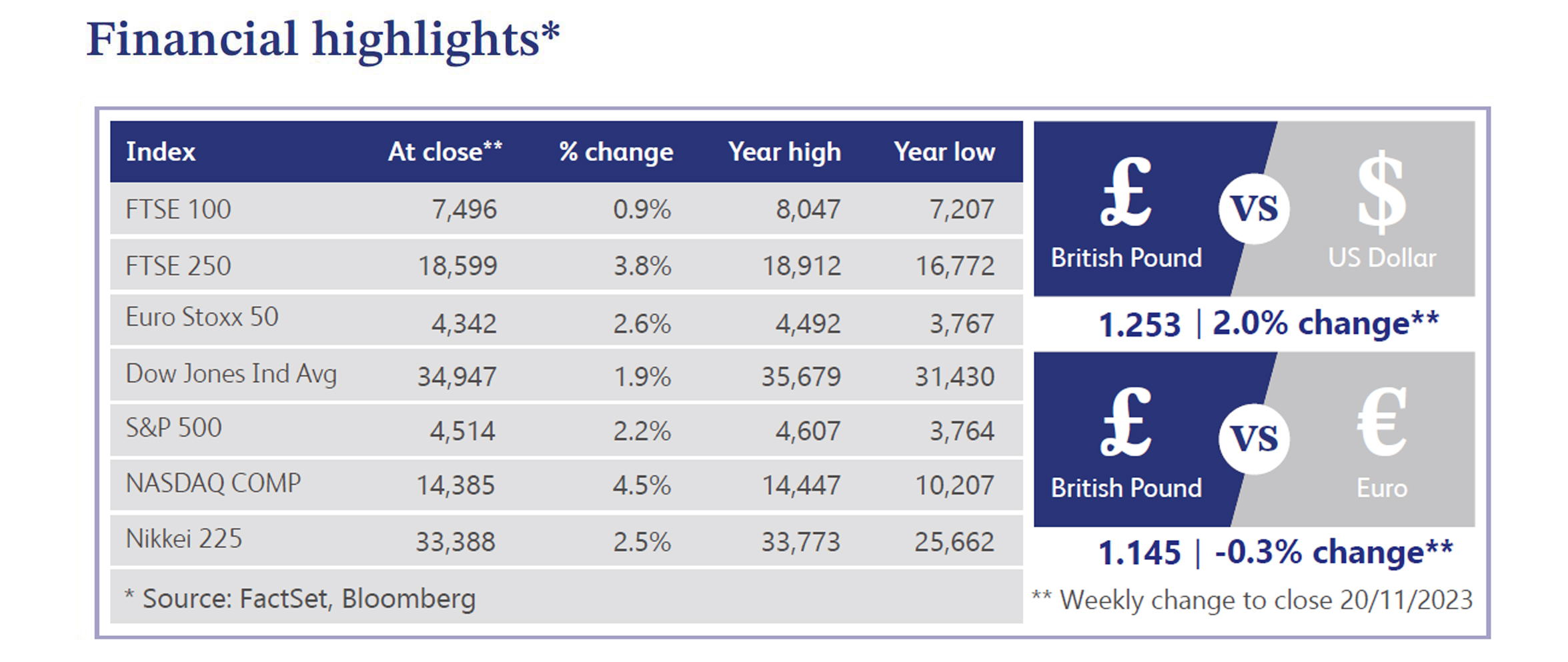 Stock Focus
Experian, the multinational data analytics and consumer credit reporting company, saw its share price increase by approximately 9.3% last week. The company reported its first half results which demonstrated strong performance as the company reported a rise in pretax profit for the first six months to $763 million compared with $517 million in the same period last year. This was driven by growth across all its regions, with its North American business, approximately two thirds of total revenue, posting organic revenue growth of 4% at constant exchange rates.

Ocado Group, the online grocery technology business, announced an agreement to provide fulfilment technology services to McKesson in Canada. Ocado's share price closed the week approximately 8.9% higher. The announced deal is for Ocado Intelligent Automation to provide its automated fulfilment technology at a distribution site for McKesson Canada, a diversified healthcare provider in Canada, and the largest pharmaceutical distributor in the country. This transaction will be minimal on cash flow and earnings in the current financial year, but is expected to be cash and earnings positive in 2025 when installation completes.

Halma, the global group of safety equipment companies that makes products for hazard detection and life protection, announced its half year results last week, which saw its share price close the week approximately 6.3% higher. The company reported its first half results where revenue beat expectations, with Halma reporting revenue of approximately £950 million compared to consensus expectations of £943 million. The company also maintains a strong order intake in comparison to last year, stating that it remains on track to make further progress in the second half of the year.

Market Commentary prepared by Walker Crips Investment Management Limited.
Important information
This publication is intended to be Walker Crips Investment Management's own commentary on markets. It is not investment research and should not be construed as an offer or solicitation to buy, sell or trade in any of the investments, sectors or asset classes mentioned. The value of any investment and the income arising from it is not guaranteed and can fall as well as rise, so that you may not get back the amount you originally invested. Past performance is not a reliable indicator of future results. Movements in exchange rates can have an adverse effect on the value, price or income of any non-sterling denominated investment. Nothing in this document constitutes advice to undertake a transaction, and if you require professional advice you should contact your financial adviser or your usual contact at Walker Crips. Walker Crips Investment Management Limited is authorised and regulated by the Financial Conduct Authority and is a member of the London Stock Exchange. Registered office: Old Change House, 128 Queen Victoria Street, London, EC4V 4BJ. Registered in England and Wales number 4774117.