Market Commentary: Week to 5 January 2021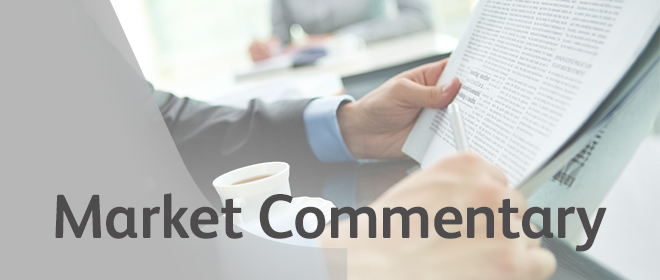 5 January 2021

Market News
During 2020, most of the world's stock markets went from disaster to life support to partying on steroids. As a result, investors survived the largest natural human disaster in modern history with their savings largely intact. The bad news is that confidence in capital markets has been propped up with the aid of mindboggling central bank monetary injections (to the tune of $8 trillion) and massive government economic support (estimated to be over $12 trillion). In fact, some of this support may well have found its way into the riskier assets and asset classes, boosting valuations far beyond the ability of some companies to deliver and igniting speculative bubbles. 
The question is how easy the transition will be from institutional support to standing on our own two feet. Optimists point to the rollout of vaccine programmes, the inevitable splurge by consumers forced to save but wanting to spend, and the continuation of central bank bond-buying programmes. Pessimists highlight the huge increase in government indebtedness that, eventually, will have to be rolled over or recouped through taxes. Company balance sheets are in equally poor shape, and the entire edifice of debt is held together only by near-zero interest rates. How will central banks extricate themselves from this? Not easily: while the overall story of 2021 will be one of returning to normal, no doubt there will be tantrums along the way. 
Meanwhile, the mutation of the virus reminds investors that risk is still out there. The higher transmissibility of the new variant means that any given level of lockdown is less effective at controlling the spread. With the new variant already circulating widely (cases have turned up in over 30 countries to date), plus the recent holiday season, it would be reasonable to assume that more lockdowns are on the way, giving rise to a repeat of at least some of the supply-chain problems encountered last spring. This, in turn, puts pressure on vaccine effectiveness, rollout and take-up. Moreover, it's worth emphasising that vaccination does not prevent transmission so, all else being equal, the new variant is highly likely to put a dent in economic growth expectations for 2021. 
Investor confidence has, so far, remained relatively robust in the face of the new variant. Sterling – together with the UK stockmarket – actually rose after the Prime Minister announced the more-severe lockdown last night. Investors appear to be hopeful that any new mutations are likely to be covered by existing vaccines, despite the fact that higher levels of transmission create a higher risk of further mutation. Indeed, one of the more remarkable aspects of stockmarket performance over the past nine months is that it was achieved despite the ever-present risk of mutation. If a mutation occurs that is able to evade the existing crop of vaccines, then we are back to square one.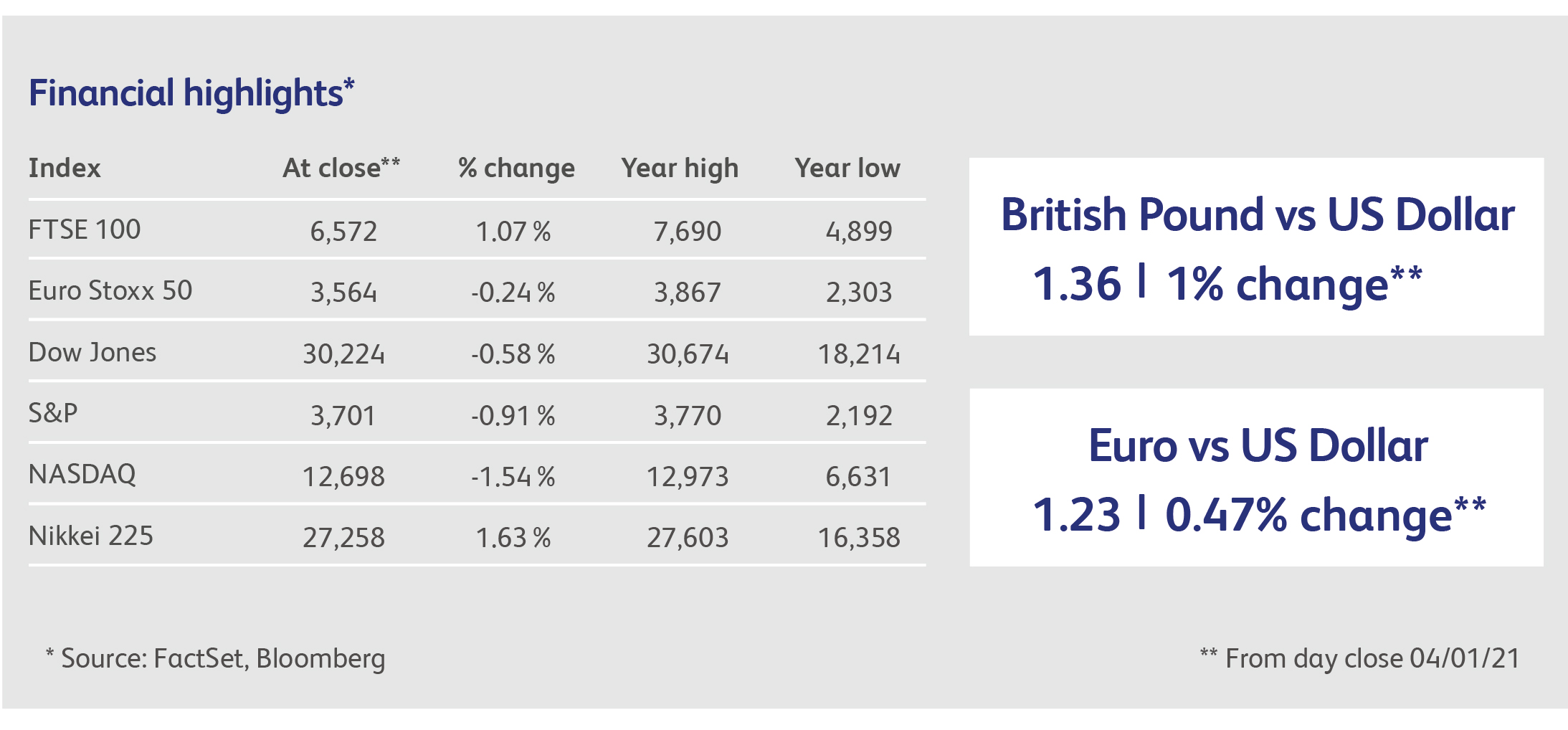 Stock focus 
Chinese internet giant Alibaba has lost over $200 billion in value (roughly a quarter) since its share price peaked in October, apparently as a result of owner Jack Ma's run-in with the Chinese authorities. In an unusually public spat between one of China's most successful entrepreneurs and Chinese regulators, the firm is being investigated for monopolistic practices. This follows the cancellation of the initial public offering (IPO) of its internet payment affiliate, Ant Financial, which was going to be one of the world's largest-ever IPOs. Commentators see this as the Chinese government exerting more control over tech firms, which have grown so fast they may actually come to threaten the Party's dominance. The travails of Alibaba also demonstrate how cash-rich, internet companies will react to poor share price performance: the company raised its proposed stock repurchase program by $4 billion to $10 billion. 
Mondelez International Inc. is closing in on a deal to buy the rest of Hu Master Holdings (Hu) after it took a minority stake in 2019. Hu makes chocolate bars based on the paleolithic diet, and this deal would value the company at around $340 million. Mondelez, which owns the Cadbury and Oreo brands among others, has been adding to its portfolio of brands as it attempts to tap into the growing demand for healthier snacks. 
A group of employees at Google, a subsidiary of Alphabet Inc., has formed the Alphabet Workers Union, a rare move within Silicon Valley. Members will pay 1% of their annual base pay and bonus every year to support the union. While the union is currently backed by only 200 workers - Alphabet has approximately 132,000 employees - it reflects a growing trend of employee activism in the sector. The union's immediate goal isn't collective bargaining or formal recognition by Alphabet, but, members said, reflects a need for employees to be able to speak freely without facing career repercussion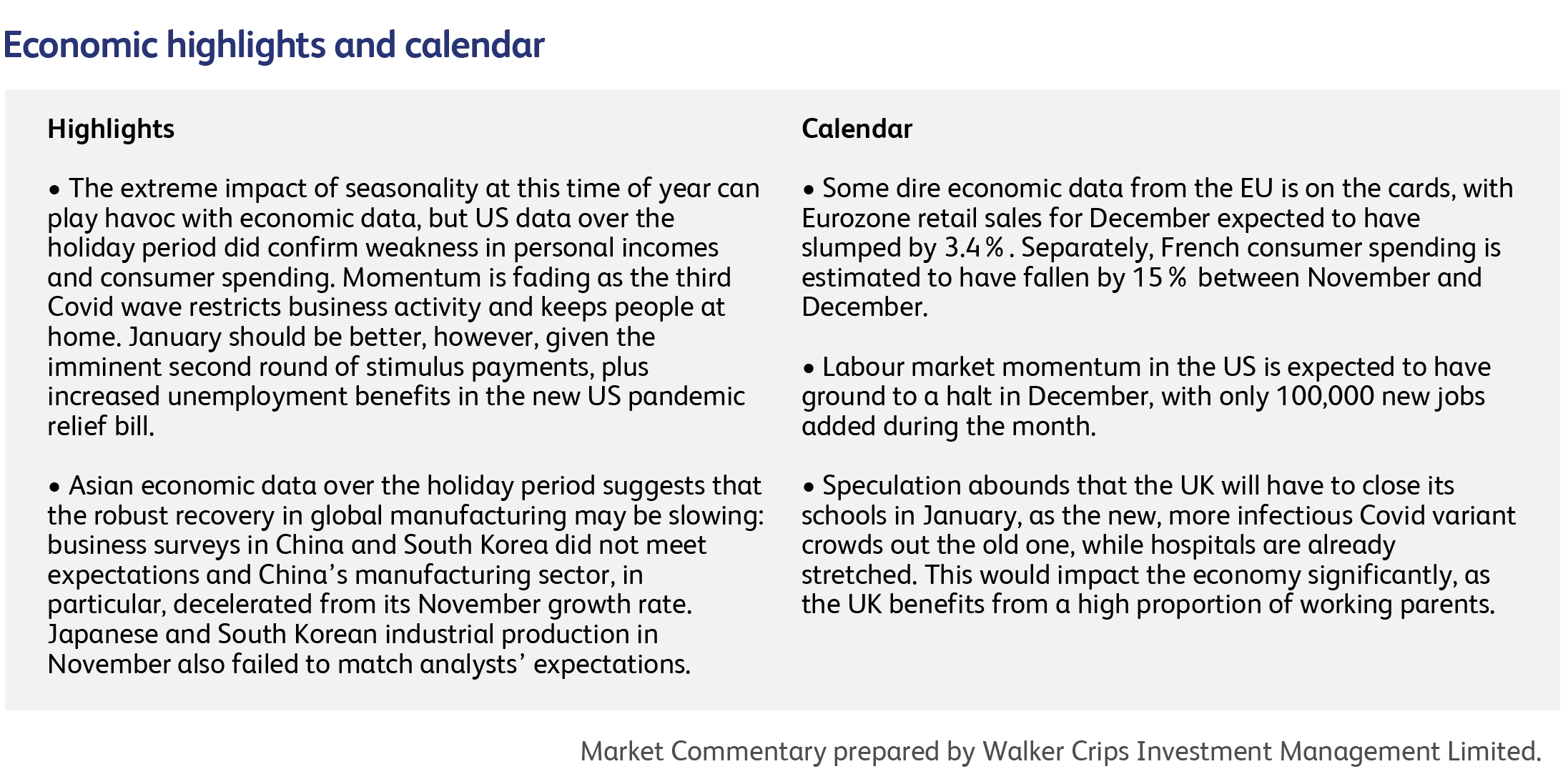 Important information
This publication is intended to be Walker Crips Investment Management's own commentary on markets. It is not investment research and should not be construed as an offer or solicitation to buy, sell or trade in any of the investments, sectors or asset classes mentioned. The value of any investment and the income arising from it is not guaranteed and can fall as well as rise, so that you may not get back the amount you originally invested. Past performance is not a reliable indicator of future results. Movements in exchange rates can have an adverse effect on the value, price or income of any non-sterling denominated investment. Nothing in this document constitutes advice to undertake a transaction, and if you require professional advice you should contact your financial adviser or your usual contact at Walker Crips. Walker Crips Investment Management Limited is authorised and regulated by the Financial Conduct Authority and is a member of the London Stock Exchange. Registered office: Old Change House, 128 Queen Victoria Street, London, EC4V 4BJ. Registered in England number 4774117.