Rishi Sunak's Conservative Party conference speech last week marked the beginning of his election campaign. He outlined a bold agenda, including tax cuts, education reform and a substantial £36 billion investment in northern and midlands transport infrastructure. This investment came as a result of the decision to cancel the northern leg of the HS2 railway project, which stirred mixed reactions and represented a significant shift in political consensus. Sunak also emphasised the Conservative Party's commitment to bold change, introducing a new qualification, the "Advanced British Standard," and promising tax cuts while highlighting the need to control inflation. Additionally, he proposed a phased increase in the legal smoking age.

The British Retail Consortium's latest data showed a slowdown in September's shop price inflation, reaching its lowest point in a year. Annual price growth in September decreased to 6.2% from 6.9% in August, primarily due to intense competition among supermarkets leading to lower grocery prices. Non-food inflation also eased to 4.4% from 4.7% the previous month, reflecting a reduction in broader price pressures. This moderation in price increases is a relief amid concerns about the cost of living. However, risks linger, such as high-interest rates, rising oil prices and potential supply chain disruptions that could threaten this newfound moderation.

Last week also saw the Financial Conduct Authority ("FCA") issue a warning about the potential impact of the sharp rise in global interest rates, which could lower valuations of private assets. The FCA is reviewing valuations in private markets, focusing on risks tied to commercial real estate and the use of leverage. This warning coincided with Prospect magazine's interview with the Bank of England ("BoE") Governor, Andrew Bailey, who highlighted the risk of significant shocks in financial markets due to recent bond market turbulence. The bond sell-off has also prompted increased scrutiny of equity market valuations as investors reassess their positions. Data from Calastone, the largest global funds network, showed UK investors pulled money out of equity markets for the fifth consecutive month. However, the outflows of equity funds were the least severe since February at £206 million, with fixed income markets also suffering outflows with investors favouring high yielding money market funds.

Halifax house price data showed potential signs of stabilisation in the housing market, with smaller declines than expected in August. Monthly prices fell by 0.4%, below the predicted 0.8% drop, while the year-on-year decline stood at 4.7% compared to the consensus of 5.0%. This aligns with recent reports indicating a slight uptick in housing activity after a summer slowdown. However, the overall market remains subdued, characterised by lower sales figures and fewer instructions to sell homes. This comes as elevated borrowing costs continue to exert downward pressure on prices. Nevertheless, optimism stems from the belief that the BoE base interest rate has peaked or is near its peak, easing fixed-rate mortgage deals, and strong wage growth.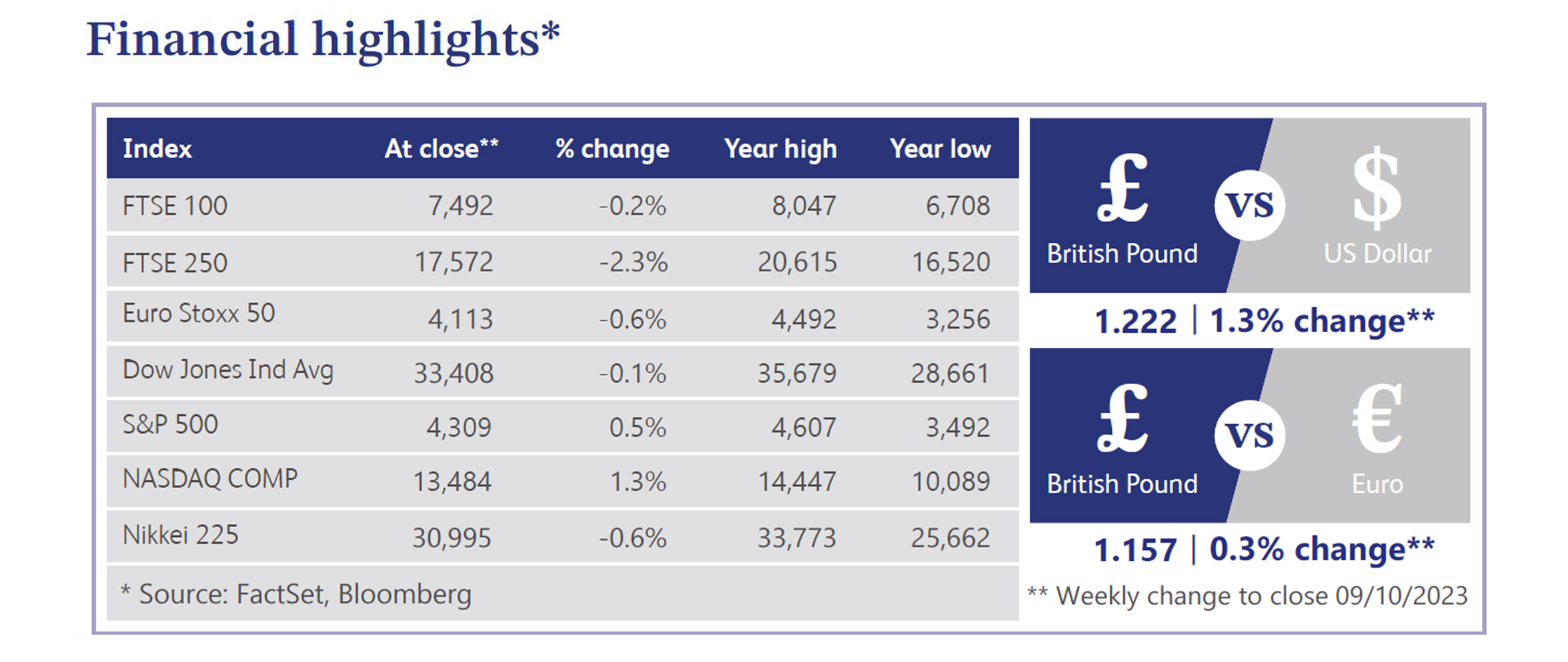 Stock Focus
Aviva, the UK based multinational insurer, saw its share price increase by approximately 4.9% last week after an article in The Times suggested that at least two parties were potentially interested in acquiring the company. The article stated that the potential interested parties included Allianz, Intact Financial Group, Tryg and an American insurer who were all considering options, with at least one potentially thinking about offering £6 a share for Aviva.

Tesco, the UK supermarket chain, announced its half year results last week. The company reported better than expected results as its retail division showed pretax earnings before interest and retail free cash-flow beating consensus forecasts by 4.9% and 35.6% respectively. Tesco also increased its full year profit guidance as the company reported adjusted operating profit of £1.48 billion, beating expectations of £1.37 billion. Investors viewed these results favourably, sending the share price surging by approximately 5.4% on the week.

Pennon Group, the UK water utility company based in Exeter, saw its share price increase by approximately 4.5% last week after announcing its first half trading update. The company announced that trading was in line with management expectations and that its water resilience investment is delivering a demonstrable improvement in the water resource position across the South West. Pennon also stated that it was on track to deliver a significant environmental investment plan with capital expenditure of approximately £400 million for 2023/2024.

Market Commentary prepared by Walker Crips Investment Management Limited.
Important information
This publication is intended to be Walker Crips Investment Management's own commentary on markets. It is not investment research and should not be construed as an offer or solicitation to buy, sell or trade in any of the investments, sectors or asset classes mentioned. The value of any investment and the income arising from it is not guaranteed and can fall as well as rise, so that you may not get back the amount you originally invested. Past performance is not a reliable indicator of future results. Movements in exchange rates can have an adverse effect on the value, price or income of any non-sterling denominated investment. Nothing in this document constitutes advice to undertake a transaction, and if you require professional advice you should contact your financial adviser or your usual contact at Walker Crips. Walker Crips Investment Management Limited is authorised and regulated by the Financial Conduct Authority and is a member of the London Stock Exchange. Registered office: Old Change House, 128 Queen Victoria Street, London, EC4V 4BJ. Registered in England and Wales number 4774117.